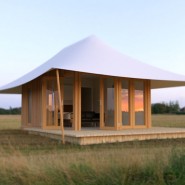 Mobile cottage
Created for a client in the UK, concept to curcumvent the 'trailer' laws by having a tent style awning/roof. The homes are all portable and can be set up in a caravan park or rented lot. The benefit of this will be apparent during the 2012 olympics when accomodation is most scarce.
The mini home features a bedroom with queen size bed, bathroom and kitchenette.
Modeled with Sketchup and rendered with Thea.